GREASE TRAP CLEANING & PUMPING SERVICE
If you own a restaurant or commercial business that has a grease trap, you will know that it needs to be pumped and maintained on a regular basis. We also offer hot water hydro-jetting services for your grease trap and lines.
The purpose of grease traps is to remove sludge, oils, and grease from the wastewater that goes into the sanitary sewer. The grease trap catches these waste products while the water passes through without any problems. While maintaining the grease traps is a smelly and difficult job, these need to be cleaned and looked at regularly, so they work without any issues. Not only this, if you don't properly maintain the grease traps, you could be liable to pay hefty fines.
Grease Trap Cleaning & Pumping Services We Offer
Our team at Advanced Septic Service offers commercial grease traps cleaning and maintenance services.
Grease Trap Cleaning & Maintenance
Providing professional grease trap cleaning and maintenance to remove all kinds of waste substances from the grease traps.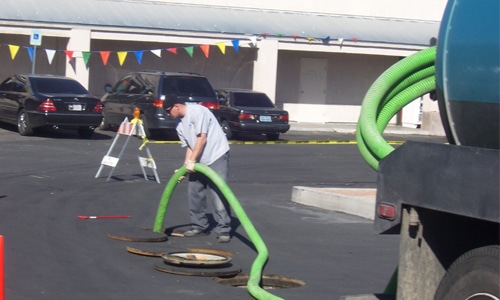 We ensure professional grease traps pumping services, without which oils, grease, and other waste will stick to the tank's sides and cause a clog.
Grease Trap Hydro-Jetting
Hydro-jetting your grease traps efficiently clean your grease traps, ensuring no clogs or issues occur. We specialize in hydro-jetting service.
At Advanced Septic Service, we provide the best grease trap cleaning and pumping service. Our experienced technicians work quickly and efficiently. We provide cleaning and maintenance services for any grease trap in restaurants, schools, hotels, or other commercial businesses.